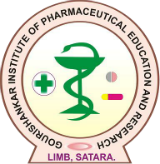 Workshop on e- Media for Teaching Learning Process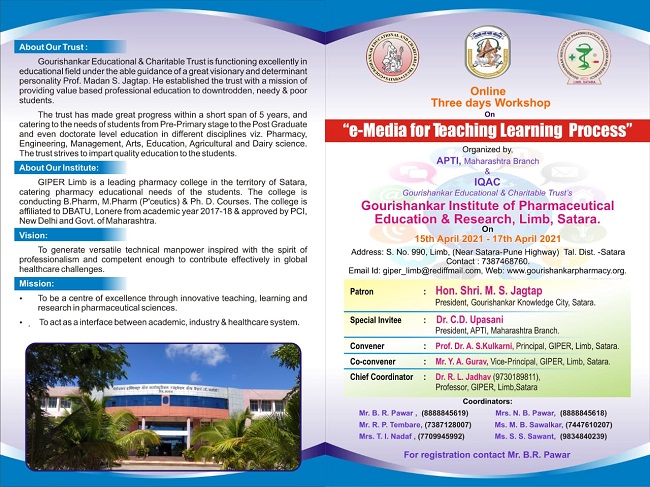 Internal Quality Assurance Cell (IQAC) of Gourishankar Institute of Pharmaceutical Education & Research, Limb, Satara, in association with APTI, Maharashtra branch, has organized three days online workshop on "e- Media for Teaching Learning Process" for development of Pharmacy faculties from 15th to 17th April 2021.
The Objectives of workshop was to aware teachers regarding active teaching learning pedagogies. The traditional approach is teacher-centric and information is pushed to the learner. Media allows the instructor to facilitate the transfer of expert knowledge to novice learners. Therefore, now days the role of teachers has undergone change from transmitter of knowledge to facilitator. In this COVID-19 situation, teaching learning process shifted towards the e- teaching learning mode. Therefore, teachers should aware regarding various online e-sources and develop skills and abilities to use this media for instructional purposes which will be help for development of students.
Prof. Dr. B. S. Kuchekar, Dean, School of Pharmacy, MIT World Peace University, Pune, has inaugurated the function. Dr. C. D. Upasani, President, APTI, Maharashtra Branch, was present as special invitee for the function. First session was conducted by Dr. P. D. Aragade, HOD, Pharmacy, Govt. Polytechnic, Jalgaon & his topic was Moodle as a Learning Management System. Second session was conducted by Dr. Kuldeep Bansod, Govt. Polytechnic, Jalgaon on Google Classroom. Subsequent sessions were conducted by Dr. Anwar Shaikh, HOD, Allana College of Pharmacy, Pune & his topics were animation, You-Tube & creation of own virtual Lab. All resource persons have effectively imparted the knowledge in the mind of participants. More than 110 participants from various Universities have attended this workshop from different destinations.